VERSION 23 – NEW FEATURES
Module NOM036-1 [Mexico]
This module is based on an official standard of the United Mexican States and is therefore applicable only in this area.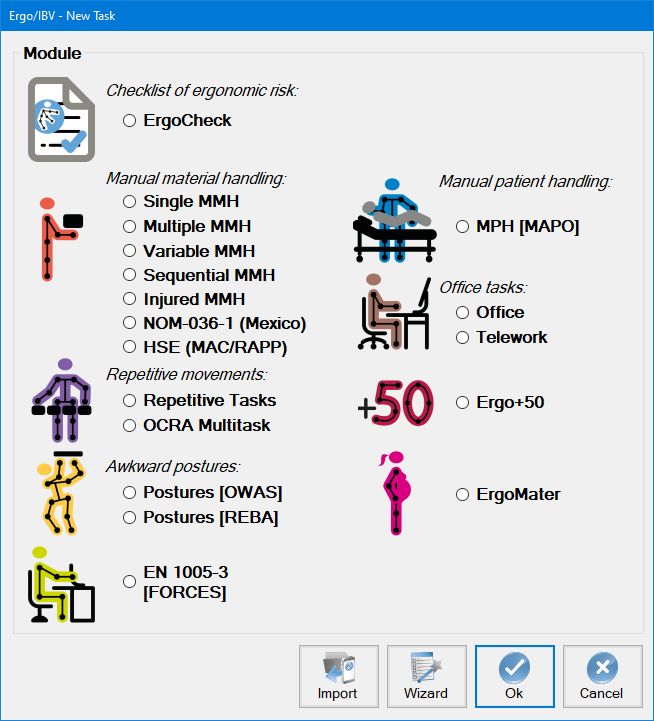 In which situations does it apply?
The NOM 036-1 module makes it possible to estimate the risk of tasks in which the worker carries out operations that involve carrying, lifting, pushing, lowering, dragging, placing or stowing loads weighing more than 3 kg.
Specifically, the following tasks are considered as the object of analysis:
Static tasks of lifting and lowering loads.
Tasks involving manual lifting and carrying of loads.
Tasks involving lifting and lowering of loads between several persons.
Moving loads without wheels.
Moving loads on wheeled equipment.
The application of the module is foreseen as a simple estimation of the level of risk. When the result of this quick assessment does not allow to determine the level of risk or acceptable conditions and/or when despite the implementation of corrective measures, a hazard still exists, a specific assessment using quantitative methods (e.g. Simple/Multiple/Variable MMH modules) is necessary.
THANK YOU FOR PLACING YOUR TRUST IN ERGO/IBV